Ohora Nails Review | Complete Guide 2021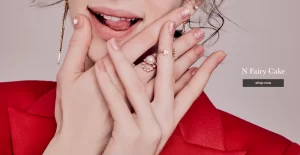 Hey geeks, how are things going? May this be the year of realizing all the goals you've set for yourself and may it be filled with luck and happiness. In today's world, getting healthy and living safely is paramount. to achieve this, please take necessary measures to prevent pandemic situations.
It is evident that we all are bored because we are unable to have outdoor entertainment. As a consequence, taking care of my skin and health by myself has become a hobby for me lately. To reduce my overall expenses, I have been self-grooming since 2020 and bought products online which are cheap and effective. Initially, I bought many products from advertisements and reviewers (mostly paid ones) where most products were of poor quality.
As a result, I went ahead and took the responsibility of finding an ideal product by the hit and trial method.
It literally took me a long time to find a good nail sticker, which has been missing from my personal vanity case. I have tried many nail stickers from various brands. However, in the end, I was left unsatisfied. Then, after much research online, I came up with Ohora.
Recently, this gel nail wrap was viral on the internet, so I bought it and used it. The designs were amazing, unique, and cheap, and they also provide a wrap for toenails. These wraps are an alternative for nail polish and they look very realistic in our nails. They mainly designed these nail strips for beginners and those who change their nail polish frequently. Without further ado, let's analyze the gel nail kit from the Ohora brand, its pros, and cons, and conclude with my opinion and bonus tips.
A Brief Introduction To Nail Strips
Often called nail wraps, these strips differ from press-on nails.
In simple tern, nail strips are nail stickers, which are self-adhesive. They come in a variety of different colors and patterns. We can apply them straight to clean nails and don't require any drying time.
We all know that at-home manicures are a struggle. As a result, nail stickers offer a convenient and easy way to get a salon-quality look at home. You can get nail stickers in both regular polish and gel formula so that everyone can find an option they like. Self-adhesive nail stickers are not only convenient, but also cheap, and time-saving. Furthermore, they are also pretty reliable, because their longevity is no less than that of a salon manicure. To get a better shine and longer lifespan, use a UV/LED lamp to cure the strips fully.
Ohora | Company Overview
Ohora is an elegant, high-quality gel nail brand developed in 2015. They manufacture the nail strips in the Technical Nail Art Lab Ohora Nail Research Institute (Glluga Seoul Inc.) in South Korea. This brand develops products based on the motto of solving problems faced by busy modern people around the world. Furthermore, this brand aims to solve the issue of time, effort, and cost issues to go to a nail salon. As a consequence, Ohora enables every person to enjoy high-quality gel nails at the salon level at home.
The CEO of Ohora is Yoo Gi-Hyun.
In recent years, Ohora has pioneered a new nail art culture with semi-cured gel nails, an innovative nail technology. Furthermore, this brand is constantly trying to innovate salon-level gel nails into your home through research and experimentation. They offer semi-cured gel nails that can be stretched to fit any nail size. They come in 15 different sizes and have 30 pieces per set. Animal products and animal-derived ingredients are not included in any of Ohora's products, which makes their products cruelty-free & vegan. Lastly, this brand gives much attention to maintaining the quality of products and continuously improving pre-sale, sale, and after-sale services.
Hence, going with the nail strips of Ohora will be a pretty intelligent decision.
Usage Directions
Make sure your nails are free of moisture and oil so they will be smooth on the surface.
Remove the clear protective film from a strip.
Then apply the strip firmly and evenly all the way around the nail, starting from the cuticle.
Use a nail file to remove excess material from center to edges.
Put the nails under a UV light for 30 seconds for better performance. In the absence of UV led light, expose nails to sunlight for 5 minutes.
Store the unused strips in a cold dark place away from light.
Lastly, Never leave unused strips in the light because the strips will lose their efficiency.
Ohora brand provides vast types of patterns and colors. I have tried some of their products and they performed as they mentioned. As a result, I am listing 10 products of unique designs/colors of Ohora for various purposes, such as for starters, long-lasting, with cuticle strips. Hence, the customers will be able to choose the best product for themself among them.
I am listing the nails strips in accordance with the perfect occasion and best features of the nail strips.
Best For Party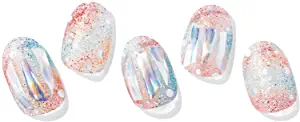 Ohora (N Newtro Nail No. 1) is perfect for parties as it has various types of designs. It possesses a sleek design with attractive colors to look classy.
Furthermore, you can also wear it on your regular days. The glitter of this nail strip is colorful, and the most magnificent among the Ohora nails list and they look very opulent along with the pearls inspired by the design of this nail strip.
It comes in a 30 set pack in which 16 are basic and 14 are pointy. Nail strips are made from sparkling blue, pink, and silver glitter. Hence, this product will surely make your nails look exquisite.
Customer review
This product got ratings of 4 out of 5 on Amazon. Most of the customers stated that this product has a really opulent and attractive design. Furthermore, some of them mentioned the product has a funny design which impressed them.
However, few customers said the glitter of the product is not the same as the displayed picture. Some of them mentioned that this is odorless. As a result, they were able to avoid the pungent smell produced by traditional nail polish.
Best For Longevity
Ohora Gel Nail N Manx is perfect for longevity as it is a nude color. Furthermore, this strip is more durable than other designs. This nail strip comes with 10 glitters strips and 20 nail strips in the nude color of 15 different sizes which can also be stretched. Lastly, this strip is employed with C-Curve Design. As a result, these nail strips last for a long time.
Customer review
This product got ratings of 4.8 out of 5 on Amazon. Most of the reviews are positive, as this nail strip has a simple and durable design. Furthermore, most of them stated these nail strips reduce their salon visits, which saves them time and money.
However, few customers shared their disappointment as more nude shades were missing. Nevertheless, it is a pretty decent choice at this price point.
Best In Design
Ohora nails N Brown Terrazzo have myriads of unique designs. The best part is that this nail strip comes in a waterproof design, so it is durable and can last for multiple occasions.
These sophisticated nails feature brown syrup gel, pebble-like stippling, and a tortoise-shell terrazzo pattern. Hence, get ready to make your fingernails shine with this shimmering design.
Customer review
Most of the reviews of this product are above 4 stars. Furthermore, nearly all of the customers mention that the design is extraordinary and fits well on their nails. Moreover, some of them felt the gel coating was perfectly coated and made it shine.
However, a verified customer said that some pieces were already broken and faded. But, sooner or later she will get her refund or replacement from Amazon. As a result, this product is nearly flawless and customers' favorite.
Best In Simplicity
Ohora nails N Molly is perfect for simple design lovers. The fun retro design featuring lemon yellow, cornflower blue, and dark navy gels will look perfect for your nails. Furthermore, it provides a nostalgic look in simple design in a mixture of a few colors. It includes 10 dotted nail strips and 20 plain nail strips in multiple colors.
I will recommend you all to quote this nail strip with transparent nail polish for best results.
Customer Review
These nail strips got 4.2 ratings out of 5 on Amazon. Most of the customers stated nail strips look exactly like the display image. They also added that the easy application of these nail strips made their time consuming less and got glitter similar to the salon. However, customers have given 3 and 4 stars ratings because the instruction manual provided was in Chinese. Lastly, a verified customer who was allergic to nail polish used this nail polish and got no side effects and also added that this is the perfect replacement for nail polish. Hence, this product by Ohora has negligible negative reviews as well.
Best For Experts
Ohora nails N Pastel is perfect for professionals because it has a vibrant color texture in which they can use other designs which will result in a professional finish.
Colorful gel manicure with pastel shades blended seamlessly into an ombre vertical pattern makes it look very opulent. Furthermore, it is suitable for everyday wear. This nail strip will give a funky look as well it is because this nail strip is based on an animal theme. Henceforth, these strips will also be a fantastic gift to nail art lovers.
Lastly, this nail strip comes in a multicolored version in which every type of set has a different color texture. Therefore, you can pick as per your preference.
Customer review
These multicolored nail strips are new to the market as they have no customer reviews, but from my usage, the overall look and longevity are pretty good. You can add the glitter of various colors at various patterns, for getting a look that is created by a branded salon. The only con is the glossy look of the nail strips because some prefer a matte look. Hence, the customers who prefer a matter finish will not like this product.
Pros Of Using Ohora Nails
Better auxiliary: The visual appearance is like a salon's manicure. It provides a sizzling look at home.
Simple to apply: Using this gel nail kit is pretty simple. Just directly paste it on the nail and stretch it for a better look without bubbles.
Enormous types of design and color: They offer nail strips in vast types of unique design and attractive colors.
Bonus offer: If you sign up on the ohora nails website after purchase, you can avail UV light lamps as complimentary offers. (Offer may vary, please verify on their website).
Non-Hazardous: This nail strips are toxic-free as it made by non-pvc materials
Easy Removal: Removing these nail strips is very easy; you can just peel it off and no worries about changing nail color/design regularly.
Cons
UV light: The UV light provides less intensity than salon as salon has high wattage power line and high intensity UV light machine, which increases the drying time compared to salons.
Durability is low: When compared with salon longevity, ohora nails strip has lesser duration time than it.
Safety attentions: The usage of UV light should be in proper steps as per guidelines, and also remember high exposure of UV light may cause skin cancer. You can use other alternatives for drying gel nail strips.
Lacks waterproof design: Because of its pvc-free nature, water will fade the design over the time. However, it will not dilute or dissolve in a single wash.
Tips On Buying
Choose soft, easy-to-apply nail strips. It is best to use real nail polish strips because they are easy to apply and feel light on the nails.
When choosing nail strips, always select non-toxic ones, as harmful ingredients can cause brittleness, staining, and yellowing.
Testing a nail strip on real and false nails is a good way to assess its quality. It means you have found an excellent deal if it holds well on both fronts.
Avoid buying separate adhesives and glues by deciding on self-adhesive strips.
We can expect up to two weeks of durability from a good nail polish strip.
Frequently Asked Questions
1. Is a protective coat provided with this nail kit?
Several Ohora nail kits come with gems and rhinestones. They include protective nail strips in these kits. Using protective nail strips will help prevent damage from dust, oil, and gems.
2. How effective are nail polish strips?
You can stick them on and remove them easily, and they won't damage your nails in any form.
3. Do nail stickers work better than polish?
Yes, the look will be perfect as salons and it will provide a perfect finish and odorless coat to your nail.
4. How to remove nail strips easily?
They include wooden cuticle sticks in each Ohora kit. In order to remove your nail strips, soak this stick in your regular nail polish remover and push with this stick until the nail strips are obliterated completely.
5. Does a topcoat prolong the life of nail polish strips?
The answer is yes and you can extend the life of nail polish strips by applying a topcoat.
Conclusion
In comparison to the nail strips of other brands, Ohora surely provides the best quality (similar to the spa). Furthermore, these nail strips are pretty stretchy. As a result, the nail strips will last for a long time. In addition to this, the finish of Ohora nails is really professional. As a result, your nails will surely stand out and will look really opulent.
Lastly, the products are well rated and the prices are really reasonable. Hence, Ohora nails nearly have all the virtues to nudge us to go for them.
In case you still have any doubts or queries regarding Ohora or any of the blogs written by me do let us know through the comment section. Our team Cheapperks will be more than happy to hear from you and come up with a solution.
Sources
Here at Cheaperks, we make sure that we do not spread any wrong information. Hence, we have stern guidelines for sourcing to omit the spread of any false information. We avoid displaying the facts from tertiary sources as they may have some information that may cause harm to our readers.
You May Also Like To Read About